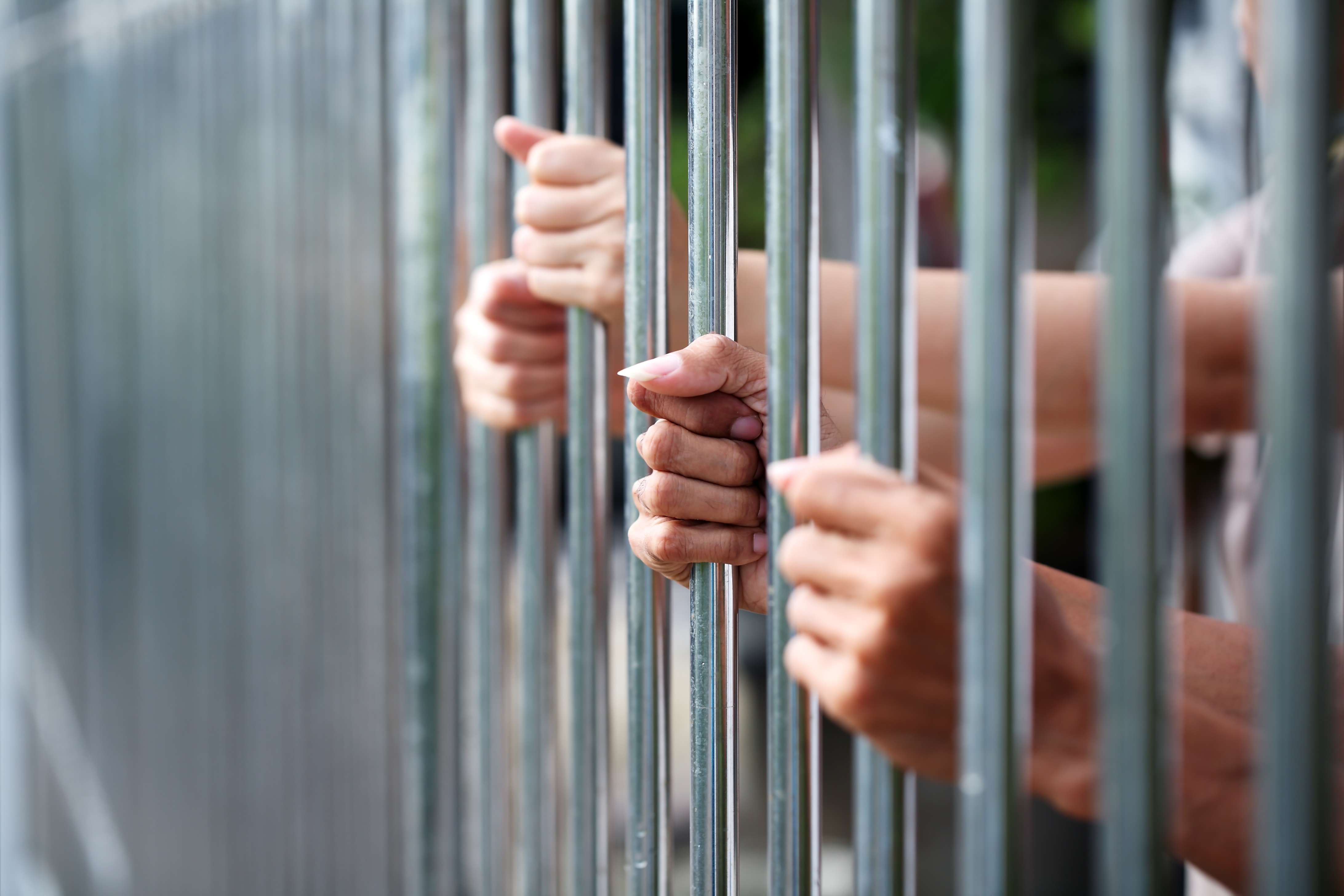 Israel Trevino worked at the Central California Women's Facility as a correctional officer for a decade before he was fired in 2018 for groping and sexually harassing inmates. His case was never remanded to the District Attorney's office for criminal charges, but the California Department of Corrections and Rehabilitation (CDCR) launched an internal investigation that revealed the truth about sexual abuse in prison.
It was discovered that six correctional officers had been fired from the facility for groping, oral sex, intercourse, and sexual exploitation of inmates. Inmates say they sometimes "went along" with sexual advances from prison guards as "a survival technique." As one inmate explained to KQED News, incarcerated women rely on correctional officers for access to phone calls, time out of their cells, tampons, and clean laundry. They can also face extreme sanctions and longer prison sentences if an officer decides to write them up.
Whether you are incarcerated or not, you are entitled to freedom from sexual violence. The Eighth Amendment provides all Americans with the right to be free from "cruel and unusual punishment." This includes a right not to be sexually abused by prison staff. The following article describes the issue of sexual abuse in prisons in California, federal and state laws designed to protect inmates, what to do if you've been victimized, and where to turn for further advocacy efforts. 
#MeToo Behind Bars: Sexual Abuse in California State Prisons
The "Me Too Behind Bars" movement—headed by the California Coalition for Women Prisoners and the Young Women's Freedom Center—seeks to expose the prevalence of sexual abuse in prison. In 2015, correctional administrators reported 24,661 allegations of sexual victimization in prisons, jails, and other adult correctional facilities. Of those allegations, more than half (58%) involved sexual victimization by staff toward inmates, according to the Bureau of Justice Statistics.
Meanwhile, state prison officials say they have enforced a zero-tolerance policy for sexual misconduct. In compliance with the federal Prison Rape Elimination Act of 2003 (PREA), they investigate and track all allegations of sexual assault and harassment by prison staff. In 2018, 337 staff-on-inmate incidents were reported in California prisons—only 11 cases (3%) were substantiated.
The Prison Law Office has monitored inmate conditions for the past 36 years, as part of a federal class action settlement. In 2016, a random interview sample of 80 women found that nearly all had experienced sexual abuse or harassment during their sentences. Behaviors ranged from cat-calling and making misogynist references to women, providing women with alcohol so they would strip for officers, and demoralizing pat-downs. They concluded there was a lack of responsibility, a culture of retaliation, a failure to protect vulnerable prisoners, and that the staff both incited violence among prisoners and routinely employed excessive physical force themselves.
Reformers are pushing to restrict male guard access to areas where women prisoners sleep, change, and bathe. They are calling for more female prison guards to be hired to supervise in these areas, as well as a change in culture.  
Laws Protecting Prisoners
Title VII of the Civil Rights Act of 1964 prohibits discrimination of any form based on race, color, religion, sex, and national origin; under this definition, sexual harassment is a crime. Federally, the Fourth Amendment gives you a right to privacy and the Eighth Amendment upholds a right to freedom from cruel and unusual punishment.
Prison staff members can be charged with unconstitutional conduct when acting outside of the duties of their job. Casual and infrequent observation of nude prisoners, including routine strip searches or pat-downs, may be deemed justifiable and within the scope of employment but not when it is so offensive to human dignity it causes physical or psychological harm.
The Eighth Amendment also outlines a prison guard's duty to protect those in their care from prisoner-on-prisoner sexual abuse. Even when guard actions are not deemed "in violation of the constitution," prisoners may sue under state tort law for sexual assault, the intentional infliction of emotional distress through sexual harassment, and negligence in failing to protect prisoners from foreseeable sexual abuse by other prisoners.
Under the PREA:
It is the corrections agency's responsibility to protect prisoners from sexual abuse. 

Corrections facilities must have certain policies and procedures in place to do so. 

The CDCR will be audited regularly and risks losing federal funding for failure to comply.
The Sexual Abuse in Detention Elimination Act of 2005 (SADEA) provides for policies, instruction, counseling, and investigation of sexual abuse. In other words, administrators must demonstrate a commitment to protect prisoners from sexual violence and to thoroughly investigate any reports of sex abuse in California's prisons and juvenile facilities.
The CDCR outlines sexual misconduct as:
engaging in sexual behavior, sexual acts, sexual contact, or invasion of privacy

making disrespectful, overly familiar, or sexually threatening comments

claiming that a staff member "consented" to sexual activity

offering benefits in exchange for sexual favors

making threats for refusal to engage in sexual acts

conducting a nude, non-emergency body search on a member of the opposite sex
By CDCR regulations, prisoners shall be allowed to shower, perform bodily functions, and change their clothing without nonmedical staff of the opposite sex viewing their private parts. Staff members are to announce their presence when entering a housing unit at the beginning of a shift or during personnel changes. 
California's criminal code contains a number of laws pertaining to sexual battery (PC 234.4), sexual assault (PC 243.3), rape (PC 261), and lewd and lascivious acts, including oral copulation by force (PC 288). It's worth noting there is no such thing as a "consensual activity" defense in prisoner-guard relations. California broadly defines consent in PC 261.6 as "positive cooperation in act or attitude pursuant to an exercise of free will." A person must "act freely and voluntarily, and have knowledge of the nature of the act."
Under state and federal statutes, inmates can't consent to sexual relations with prison guards due to the extreme power imbalance. As a 2016 Supreme Court ruling explained: "The control that a prison guard exerts over an inmate extends into virtually every facet of the inmate's life… The prison guard-inmate relationship is an irreducibly unpleasant one, oriented around captivity and control."
What To Do If You've Experienced Sexual Abuse in Prison
Seek immediate medical attention and mental health care. To maintain vital physical evidence, avoid showering, using the restroom, or consuming any liquids until a forensic medical examination has been performed. Provide the investigators with clothing or any items that may have come in contact with the perpetrator. It's your right to have a family member, friend, or advocate present at the time of the examination. Depending on the nature of the conduct, you may need additional tests for pregnancy or the transmission of sexually transmitted diseases. You have the right to medical treatment, mental health counseling, and protective housing placement. 
File an administrative appeal using CDCR Form 602. If prison officials don't adequately respond to your complaints (including providing you with an exam, mental health care, separating you from the perpetrator, or agreeing to investigate), you can file an appeal. You can request a free manual from the Prison Law Office that explains more about this method of getting prison officials to take action. 
Press criminal charges. Reporting your abuse to police officers and the local District Attorney's office can lead to the pursuit of criminal charges. You will need to provide as much detail as possible into the dates, times, places, and a description of events. You may choose to keep your identity confidential and bring in eyewitnesses for questioning to corroborate your story. Following the investigation, confirmation of abuse will warrant the immediate dismissal of the staff member. Prosecution can lead to jail time, fines payable to the state, community service, and probation.
Contact an ombudsman. You may also find it helpful to speak with the Office of the Inspector General (OIG), which investigates problems in the state correctional system. More specifically, there is an Office of the Sexual Abuse in Detention Elimination Ombudsperson who handles complaints of sexual abuse. Writing a confidential letter to this person can lead to a prison investigation and prisoner interviews that could help your case.
OIG Contact Information:  
Office of the Inspector General, PREA Ombudsperson
1011 Old Placerville Road, Suite 110
Sacramento, CA 95827
(800) 700-5952
Contact a civil attorney specializing in sexual assault. You need someone on the outside who has the resources to help. Filing a civil lawsuit is a way to pursue financial compensation for the physical and psychological trauma you have suffered. It may also be used to hold all parties accountable for the roles they played in what happened to you.
The expanded scope of liability is one of the clear advantages of choosing to contact a civil sexual abuse lawyer and seeking justice through the civil court system. Not only can you sue the correctional officer or staff member who hurt you, but you can also sue the prison itself and the State of California for sexual abuse while you were incarcerated. The passage of Assembly Bill 218 eliminates the claim form requirements for suing government entities in California.   
Bay Area Attorneys Can Help Victims of Sexual Abuse in Prison
No matter what landed you in prison, you are entitled to the same rights to privacy and freedom from cruel and unusual punishment as everyone else. If you or someone you know has been victimized by sexual abuse in prison, the attorneys at Lewis & Llewellyn may be able to help. 
Even if the incident happened years ago, you may still be able to sue.
Lewis & Llewellyn
has the experience, grit, and compassion to help you obtain justice and maximum compensation when suing California government entities such as state prisons.
Contact
our team online for support and guidance to see you through this emotional time, or call +1 (415) 800-0590 to schedule an appointment with an advocate today.
---

DISCLAIMER: The information in this blog is provided for general informational purposes only, and may not reflect the current law in your jurisdiction. No information contained in this blog or on this website should be construed as legal advice from Lewis & Llewellyn LLP. Neither your receipt of information from this website, nor your use of this website to contact Lewis & Llewellyn LLP creates an attorney-client relationship between you and the firm or any of its lawyers. No reader of this website should act or refrain from acting on the basis of any information included in, or accessible through, this website without seeking the appropriate legal advice on the particular facts and circumstances at issue from a lawyer licensed in the recipient's jurisdiction.