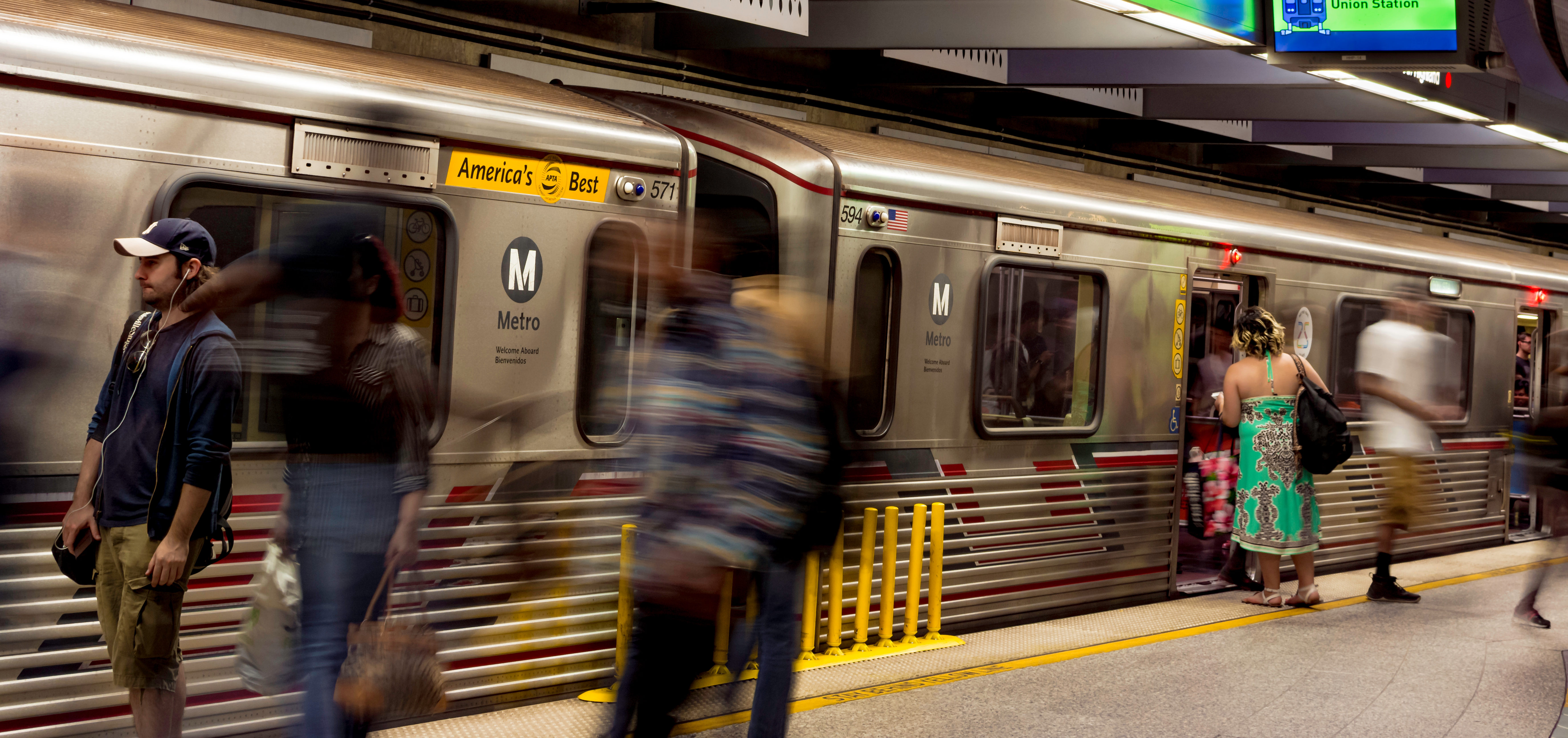 A Los Angeles man was convicted of molesting three women and a teenage girl on the Metro Red subway line between July and December last year. According to the LA Times, the man had five previous convictions for similar assaults on transit in Culver City, Norwalk, and the Long Beach Metro Blue Line, which makes you wonder how he was allowed to board the trains at all.  
The 26-year-old assailant was sentenced to more than a year in county jail and three years of probation. He is barred from riding metro trains or coming within 100 yards of a station. As part of his sentence, will be placed on the state's sexual offender registry and must complete a year-long sexual offender treatment program.
Unfortunately, sexual assault on public transport is not an isolated incident in California. It's a pervasive problem that is beginning to receive widespread attention from authorities who are concerned about public safety and declining ridership. It could be that the number of sexual assaults are rising along with the number of robberies and other violent crimes. Or it could be that more people are reporting now than they were before, emboldened by social media and a changing climate that is more supportive of victims. Either way, collecting information about these crimes is extremely important in preventing future harm.  
As you consider taking legal action regarding an incident of sexual assault, you may wonder what steps to take and who could be held responsible for public transport sexual assault, for example, especially if you don't know the identity of the assailant. Working with an experienced attorney will guide you through the legal process and answer any questions you have.  
How to Report Sexual Assault on Public Transportation
Victims of public transportation sexual assault have many resources available. If you are a victim or witness of public transportation, you should:
Call for help.

LA Metro riders can dial 1-844-Off-Limits (633-5464) for advice, support, and reporting assistance. Whether you need moral and psychological care or just want to get what happened off your chest, a trained specialist will be at the other end of the line for you. No matter where you are, you can always call the RAINN National Sexual Assault Hotline at 800-656-HOPE(4673)

to find support and guidance to local resources.

Use a reporting app.

LA

Metro has implemented a new mobile app called

Transit Watch

to help people connect with sheriff's deputies' confidential reporting system. Passengers can file a report and upload photos of the incident. The hope is that more people will report harassment problems, so they have a clearer picture of where the incidents are taking place and who these serial harassers are. The success of the Transit Watch app in LA could lead other municipalities in California and elsewhere to adopt similar technology.

Find someone local.

The 11,000+ LA Metro employees, from janitors and ticket-takers to drivers and security guards, have received formal training on how to handle reports of sexual assault. If you are touched by someone on a bus or train, assault prevention experts recommend "making as big a fuss as possible" to call attention to the perpetrator and signaling the nearest uniformed person to report if you do not have access to a phone.

Contact a lawyer.

Contacting a civil attorney is one of your most powerful resources for taking action. Like reporting to the police, it costs you nothing to do so. Attorneys can help people connect with local resources for immediate medical attention, trauma counseling, and victim advocacy networks. They can work independently, with the local police department, or with the state district attorney to conduct a thorough investigation of what happened, how it happened, and who was responsible.
If you find yourself in a predicament where you don't know the identity of the perpetrator, don't worry. A passionate attorney won't mind investigating to make sure you get the justice you deserve.  
What to Do If You Don't Know the Identity of the Perpetrator
If you contact a civil attorney who specializes in litigating against incidents of rape and sexual assault, you will tap a vast network of investigative power. Typically, they will work with local law enforcement, transportation companies, area businesses, eyewitnesses, and bystanders in pursuit of the offender—leaving no stone unturned.
In many cases, surveillance videos lead to arrests. For example, after a woman was sexually assaulted at a Santa Ana bus stop near Bristol Street and MacArthur Boulevard earlier this year, it was a surveillance video from a Buffalo Wild Wings that ultimately helped police to catch the unknown suspect. The man had been kicked out of the restaurant for belligerent behavior a few blocks from the attack. The Dallas Cowboys jersey worn in the video matched the victim's description of her attacker's clothes. The assault was also captured on the Orange County Transportation Authority's hidden surveillance camera.    
Another BART rider decided to speak out after receiving widespread support on Twitter after a man masturbated while touching her thigh as she slept on a BART bus. A BART spokesperson confirmed that "all cars have working cameras" and they will pull train car video to investigate reports of sexual misconduct.
While an individual perpetrator is held responsible for the assault, third parties such as the transportation company may also be held liable.  
Sexual Assault on Public Transport and Third-Party Liability
You may be wondering, "Can I sue the transportation company?" Fortunately, civil courts do allow for this expanded scope of liability. Your case against the public transportation company will depend upon the four components of negligence:
duty:

the duty of care from defendant to plaintiff

breach:

a breach of the duty of care

cause:

injuries caused by the breach

harm:

damages resulting from the injuries
Like many states, California follows a "Common Carrier" law, which maintains that "Common carriers must use the highest care and the vigilance of a very cautious person. They must do all that human care, vigilance, and foresight reasonably can do under the circumstances to avoid harm to passengers."  
A more difficult argument is that the defendant engaged in "reckless" or woefully "negligent" behavior that, in some way, caused or allowed the plaintiff's assault. The legal angle civil attorneys pursue will be based on the facts uncovered by their investigation.
In sexual assault cases, the injuries are oftentimes emotional and psychological. Seeking care from a medical professional will be important in documenting your injuries. Sexual harassment is aggravating, but it is not considered a crime unless you were, in some way, harmed. In some cases, a lenient judge will permit a tolling of the statute of limitations under the delayed discovery rule if your injuries were not immediately known. You may have up to three years from the realization that your injuries were related to the sexual assault to file a lawsuit.
To avoid any legal dispute, it is crucial that you contact an attorney to discuss your case as soon as possible.
Consult With San Francisco Sexual Assault Attorneys
If you or someone you know was a victim of public transportation sexual assault, don't hesitate to reach out to a team of lawyers who are ready to fight for the justice you deserve. The assault against you should not go unreported.
Large organizations and companies may try to shield themselves from liability but the experienced civil attorneys at Lewis & Llewellyn have what is required to prevail in a civil lawsuit against companies such as airlines.
The California attorneys at Lewis & Llewellyn have the experience, grit, and compassion to help you obtain justice and maximum compensation. Contact our team online for support and guidance to see you through this emotional time, or call +1 (415) 800-0590 to schedule an appointment with an advocate today.
---
DISCLAIMER: The information in this blog is provided for general informational purposes only, and may not reflect the current law in your jurisdiction. No information contained in this blog or on this website should be construed as legal advice from Lewis & Llewellyn LLP. Neither your receipt of information from this website, nor your use of this website to contact Lewis & Llewellyn LLP creates an attorney-client relationship between you and the firm or any of its lawyers. No reader of this website should act or refrain from acting on the basis of any information included in, or accessible through, this website without seeking the appropriate legal advice on the particular facts and circumstances at issue from a lawyer licensed in the recipient's jurisdiction.